PLATINUM JEWELRY BUYERS in Diamond District
Sell Us Your Platinum Engagement Ring and Get Cash Right Away

We regularly meet with customers who want to sell platinum jewelry in NYC, and over the years that we've been in business in Manhattan, we've gained a lot of insight into what works best for customers seeking top value for their items. Platinum is of course among the most expensive of precious metals, famed for its sheer brilliance and silver-like gleam. Furthermore, it has a high appeal to people who appreciate jewelry but cannot wear blended gold or silver due to metal allergies.
Contact us today to learn more by calling 646-736-7321.
If you're looking to meet with the top platinum jewelry buyers to sell an engagement ring, you're in the right place. What's more, in order to set you up for success, we've prepared some comments based on our experiences in the industry. This will give you the information you need to make a lucrative sale.
Instant Money for Platinum Tiffany Jewelry (Call Our Experts)
To begin, platinum jewelry is like gold in that it isn't typically sold at complete purity. Owing to the hardness of the metal, it's blended with an alloy to make it more malleable—the opposite problem to gold. Those metals are typically copper, palladium, rhodium, iridium, or titanium. As such, any platinum jewelry will likely come stamped with a marker of purity, like 0.950 or PT950. This indicates that, of the gross weight of the jewelry in question, 95 percent of it is platinum.
This is always helpful to sell platinum jewelry in New York  to  buyers as they're appraising an item. It's useful to be able to determine both the resale value (if the item is a contemporary piece of jewelry, such as Tiffany and Co., that can be sold again) and melt value (if the item's worth is simply the precious metal alone).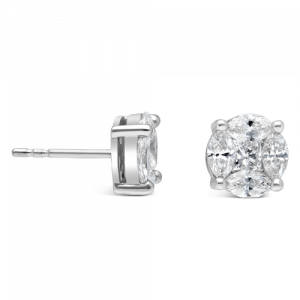 We Make It Simple to Get Cash for Your Platinum Wedding Ring
Our appraisers will show you their work once they've completed the assessment of your platinum wedding ring. They'll show the current spot price that we pay for the metal itself, multiplied times the gross weight of the ring itself. That estimate is what we're willing to pay immediately, and if you accept it, we can either pay you cash (in person in NYC) or mail you a check.
Get Instant Money for a Platinum Diamond Engagement Ring Today
One of the benefits of our system is that, even if you don't live in the New York metro area, you can still easily take advantage of our team's expertise. We have developed a web appraisal system that allows you to request a kit to be delivered to your home. You'll simply conduct an inventory of your items and submit them to us in an insured, secure envelope. We'll cover all the costs and will get it to you as quickly as possible.
As soon as we're able to appraise it, we'll give you a price quote—and this will allow you to get instant money for selling your platinum jewelry. Call us today at 646-736-7321 to learn more.