DIAMOND BUYERS
We Buy Loose Diamonds at Our NYC Store and Online (Call Today) for best Diamond Buyers

In some of our previous articles, we've discussed how diamond buyers in NYC go about determining the authenticity of precious stones. That said, you might be wondering how they then assess the value of a real diamond. What goes into its score? And how does a diamond buyer identify how much they're willing to pay for it? Like so much of the jewelry world, there's both an art and a science—and this article will hopefully make both a little clearer to you.
Contact us today to learn more by calling 646-736-7321.
First, there's a question of the four C's, which are: clarity, color, cut, and carat (weight). The simplest definition of these terms will hopefully give a little bit of perspective, so we'll start from the top. Clarity refers to the presence or absence of imperfections within the stone itself—professional jewelers call these 'inclusions.' Because diamonds are naturally occurring, and because they require an enormous amount of heat and pressure to generate, it's extremely rare for them to be free of any imperfection.
Don't Let Your Jewelry Get Undervalued—Call for Expert Appraisal
In order to grade a stone, a jeweler will use a standard scale called the GIA rating, which stands for Gemological Institute of America. A rating of FL, or flawless, means the diamond is among the 1% of gems without flaws—and this clarity rating makes it highly valuable.
Similarly, color factors in greatly to the value of the diamond. Contrary to popular belief, diamonds are not entirely colorless—in fact, most diamonds have some degree of color, typically a pale yellow. This does not of course include colored diamonds, like canary yellow, red or blue, which are much rarer and prized for different reasons.
The GIA scale rates standard diamonds from light yellow to absolutely colorless, and in this case the less color, the better.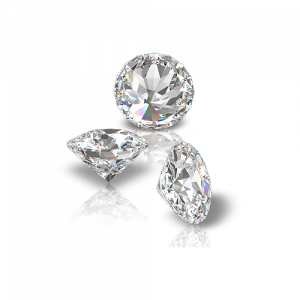 Our Team of Diamond Buyers Pays Cash for Your Gems Immediately
When professional diamond buyers in New York assess the cut of a diamond, what they're looking for is the quality of work that a jewelry maker has put into the gem. When mined in nature, diamonds are rough and close to opaque.
It's only through cutting and polishing that a gem maker is able to create the shining, reflecting appearance (which requires utmost precision). The goal is to create a reflective that makes the diamond look nearly transparent—and the less precise it is, the duller and more transparent the diamond will appear.
Sell Your Luxury Diamond Stones and Get More (Instant Cash!)
Finally, a professional gemologist will examine the total weight of the diamond, which is measured in carats. This is indicative of the overall size of the gem, and when controlling for other qualitative measurements, a larger stone will have more value.
Hopefully this adds clarity to your understanding of how diamond buyers value their wares. If you want to discuss a potential sale of your diamond jewelry or loose gems, contact our team today at 646-736-7321 to start the conversation.