CASH FOR GOLD DIAMOND DISTRICT
We Buy Gold in New York and via Our Remote Appraisal Process

When selling gold, it makes sense to get a professional to assess and appraise your item. There are a number of variables that factor into an item's total value. For one, any precious metals or gemstones form the foundation of its purchase price. When we offer cash for gold in Diamond District office, we first examine a piece to determine its total purity and weight. From there, we'll also assess more intangible factors like the finish quality, style, date of manufacture, and make or brand.
Contact us today to learn more by calling 646-736-7321.
On one hand, there's intrinsic value in precious metals regardless of branding. Gold is gold, and the current spot price for gold gives you an idea of how much money to expect in a sale. However, beyond that, there are also considerations regarding its resale value. For example, a classic Tiffany gold wedding ring from the 1950s may contain the same amount of precious metal as a modern ring. However, its brand and age make it highly attractive for resale.
Sell Your Gold Engagement Ring and Receive More Cash Right Away
In case where your gold engagement ring or wedding ring is an heirloom, antique, or famous brand, it's far more likely that you'll be able to get closer to the original price for it. If you purchased the ring during a period in which gold was less valuable (say, for example, at the beginning of the 2010s), it's possible that its current price could fetch more than you paid. This is, however, highly dependent.
One consideration for our customers is: there is always going to be a markdown between retail price and resale price. We offer unbeatable cash deals on gold in NYC, but it's likely more often than not that the resale price will be significantly reduced from what one might have paid at a jeweler or boutique. It's better to know that going into the transaction than to be surprised.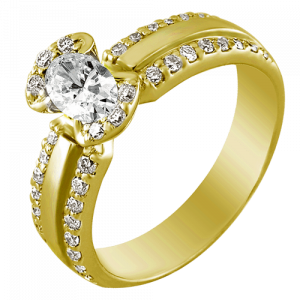 Selling a Diamond Ring? We Pay Cash and Offer a Higher Price
That said, there are obvious benefits to selling gold in the Diamond District. For one, we can offer instant cash, with none of the hassle involved with trying to sell it yourself via an online auction. Furthermore, we can help you sell items even if you live all the way across the country. Our web appraisal kit allows us to ship valuables via an insured carrier, treating the sale with the same care and precision as we would if you walked into our store on West 47th Street.
Get Cash for Luxury Watches and Timepieces (Vintage and New)
. We'll take down the details of your transaction and dispatch a kit to you, which will let you ship your valuables with confidence. Once our expert appraisers have a chance to evaluate your items, we'll issue you an offer price. You can accept that and receive payment immediately, getting cash for gold right away.