SELL ENGAGEMENT RING
Sell Your Wedding Ring for Cash: Call to Start the Process Today

If you've decided to sell your wedding or engagement ring in NYC, you want to be sure that you're getting the best value for your item. The allure of fast cash can often lead to customers parting with their rings for far less than they're worth—something that you can absolutely avoid. Our team of expert appraisers won't try to undervalue your items; instead, we'll offer you a great price that require no haggling.
Call us at 646-736-7321 and speak with an expert
We'll assess the purity and weight of your engagement ring, the cut and clarity of any embedded stones, the overall finish, and the ring's serviceability. Within minutes, you'll have a fair market value for your ring—and if this price is amenable to you, you can accept our offer and receive instant cash.
Read Our Jewelry Buyers Blog for Engagement Ring Selling Tips
It may be daunting to sell an engagement ring for cahs in New York, because ultimately the transaction is dependent on the opinion of experts working on the buyers' side. However, we go out of our way to make the process transparent and friendly. If you have questions or would like to begin the appraisal for your engagement ring (or any other jewelry item). We'll make it easy and offer great cash purchase prices.
We've had questions in the past about how much money a customer can expect for an engagement ring, and in our experience it comes down to a few particulars. First, if the ring does not have mounted gems, then the overall value will stem simply from the weight and purity of the gold, silver, or platinum used. Prices paid for these precious metals vary based on the global market, and as such your offer price will factor in the current 'spot price' applied to the total amount of precious metal contained.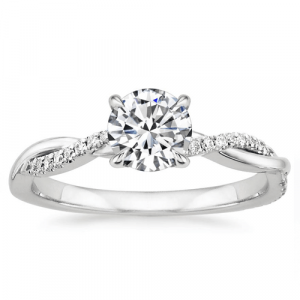 Earn Cash for Tiffany Jewelry—We Buy at NYC's Highest Prices
Engagement rings made from precious metals will typically have a stamped purity value (18k for gold, or 0.950 for platinum, for example). This reflects how much pure gold is contained inside the ring versus other metals blended for hardness and durability. As such, a small 18k gold ring might be worth more than a larger 14k ring. Similarly, a 0.950 platinum Tiffany ring might be worth more than a lower-purity ring with a small diamond inset.
These are all considerations to bear in mind as you begin the appraisal process—and if you have any questions, feel free to ask!
We Pay Cash for Jewelry, with Great Prices and a Seamless Process
Similarly, when it comes to precious gemstones like diamonds, we'll assess them based on a number of subjective factors. For starters, we'll assess the weight (expressed in carats), the clarity, cut, and color. These are jewelers' terms used for establishing the market value of a gemstone, and they'll help us identify how much your engagement ring is worth.