ENGAGEMENT RING BUYERS
Sell Your Emerald Cut Engagement Ring and Take-Home Cash Today

If you're looking to sell an emerald cut engagement ring, you've come to the right place. Our jewelry appraisal experts will make sure to explain the particulars to you during your sale, whether you're doing so online or in our New York store. There are a number of factors that we'll consider when determining the value of both your ring and its embedded gemstone, and we've prepared a few helpful tips for prospective sellers.
Call us today at 646-736-7321 in order to set up an appraisal for your engagement ring.
Contrary to popular belief, diamonds aren't flawless by nature (or by design, once cut by a jeweler). In fact, all but a tiny fraction of diamonds have imperfections—called inclusions in the diamond industry—that a diamond seller can assess with a loupe. Similarly, some of the most valuable diamonds are actually a pale yellow color (as opposed to perfectly clear).
We Pay Great Prices for Purchasing Platinum Engagement Rings
If you're looking to sell your platinum engagement ring on Diamond District, you might wonder whether or not the diamond mounted on it is worth much. To that effect, our jewelers will assess and grade it, which will allow us to make a cash offer for your item. The nature of diamonds is such that a large stone with numerous inclusions will often be worth more than a smaller, less-flawed stone. Similarly, canary diamonds (bright yellow stones) can fetch a much higher value than white ones.
Similarly, if you've shopped around for a prospective engagement ring buyer, you may have noticed that some gold buyers in NYC refuse to accept precious stones, often requiring sellers to remove the stones before appraisal. This is not a concern with our team, as we employ a number of certified expert appraisers and will accept mounted and loose gems.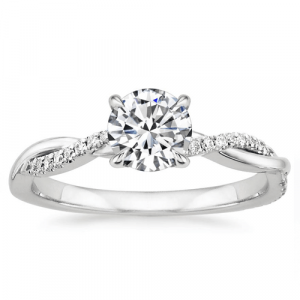 Sell Your Wedding Ring and Get Cash Quickly, with Great Prices
We'll answer any questions you may have and can either set up an appointment for you to bring your items to us, or dispatch a prepaid, insured envelope for you to use. In the latter configuration, we'll receive your items quickly and will immediately offer you a cash purchase price that's fair and accurate.
You'll have the option of accepting the deal and receiving immediate payment, or rejecting the offer and receiving your items back with no cost to you. We've created this system to provide you with a maximum of flexibility and a minimum of hassle, ensuring that you can get cash for your engagement ring i New York as quickly as possible.
Fast Cash for Carat Gemstones and Diamond Engagement Rings Today
If your engagement ring has diamonds mounted to it, you might be wondering what their value is aside from the precious metals of the ring itself. When our appraisers assess your item, they'll provide you with a description that includes the carat weight of the diamonds (this may be a close estimate if removing the stones for inspection is difficult).