BEST GOLD BUYERS
We Can Offer Great Purchase Prices for Gold and Silver

Selling valuables can be a confusing process, because no one offer is the same. Even if you're selling pure gold bullion, you might encounter a variety purchase prices—and that variance only becomes more dramatic when you're selling gold Diamond DIstrict . However, we strive to be the best gold buyers out there, and part of accomplishing that is making the selling process easy for you.
To start out the web appraisal process, call us at 646-736-7321
There are two ways to go about getting your gold and silver valuables appraised for purchase. If you're in the New York Metro Area, you can visit our store on West 47th Street in Manhattan for an in-person assessment. If you live elsewhere, we can provide an insured, express envelope that will allow you to ship your items to us with confidence.
We Buy Gold Jewelry, Diamond Rings, Silver Bracelets, and More
We'll make a note of the items you're looking to sell, confirm some key details with you, and then dispatch a mailer kit to you via express post. This will allow you to ship us your gold jewelry, rings, bracelets, and other items with confidence.
Once the items arrive at our facility, we'll examine them for weight, purity, and serviceability. This will allow us to determine the offer price, which we'll provide to you expeditiously. If you choose to accept it, we'll issue payment immediately. If you'd rather not sell at that price, let us know and we'll use the same secure, express shipping to return your valuables.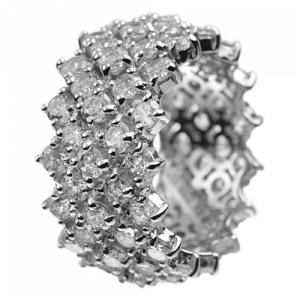 Our Team Offers Cash for Gold, with Incredible Purchase Prices
We make it a point to keep our process simple, and rather than trying to haggle, we simply offer great purchase prices to our customers. However, in order to get the best possible price, it's important to understand some key details that the best gold buyers in New York will use to determine value.
First, most gold jewelry is a composite with other metals, owing to gold's softness and lack of durability. As such, items that will experience wear and tear will often be 18k or 14k gold instead of 24k. Even the finest Swiss watches might not include pure gold, as the potential for damage is increased.
You Won't See a Higher Purchase Price in NYC for Gold Resale
Similarly, solid gold items will fetch a much greater price if they're free from deformities, marks, or indentations. With antique jewelry, this often easier said than done, as a lifetime of use can sometimes result in marks on the surface of the item—but our team of experts can provide an assessment of your valuable as-is, allowing you to determine if the price is acceptable to you.
When we appraise your item, we'll offer a great price that you can take immediately if you choose. If the answer is yes, we'll issue payment right away—and if not, no worries at all. We want to be the diamond district gold buyers and we plan to achieve this by giving premium service to every customer.